The Ninehertz - Software Development Company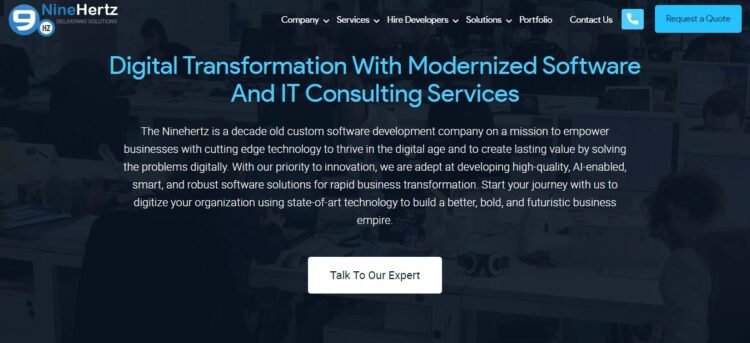 The Nine Hertz is the fast-growing IT Consulting Company that is guided in delivering the products and views into mobile space with prime quality. We assist clients in identifying the risks and opportunities that address both short-term challenges as well as long-term value creation. Hiring us is like enlisting a top-notch development team, a decisive business consultant,a marketing leader and a product manager.
Since 2008, The NineHertz has been creating prodigious web, game and mobile app solutions for world's most inventive brands. We have delivered more than 1000 mobile apps, games and web apps worldwide within both native and cross platforms. Among few of them are award winning iPhone and Android apps and enlisted as top 10 downloaded apps on Google and Apple Store.
The NineHertz is headquartered in Jaipur, India with the offices in USA, UK, Australia, and Dubai with 200+ team members including industry experts in mobile app, web development, Mobile Game Development, salesforce development, industry solutions, cloud computing, and marketing strategy.
Our Key services:
Custom Software development
Mobile App Development (Android App, iPhone App, Cross-Platform App, etc)
Custom Game Development (AR, VR, iOS, Android, NFT, Metaverse, 2D, 3D, etc)
Salesforce Development (Lightning, Implementation, Consulting, etc)
Web Development
Mobile Game Development
Desktop Game Development
Xamarin App development
Wearable Devices App development
Enterprise App Development