Biz4Solutions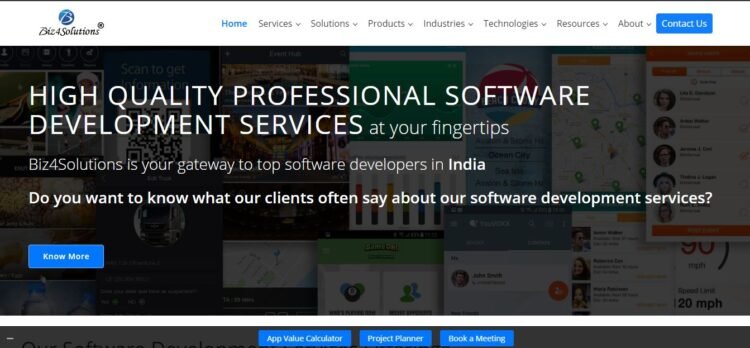 Biz4Solutions, being an eminent web and mobile app development company, have a proven track record of delivering high-end software services to help our clients enhance their employee productivity, streamline their workflows, boost their customer experience and ultimately boost their ROI. We partner with diverse brands, in the USA, Australia, Europe, and the Asia Region.
We have a decade-long experience in developing transformative web and mobile app development services. We have catered to niche business domains like Healthcare, Transportation, Education, Water industry, eLearning, eCommerce, Food Industry, Oil and Gas, Human Resources, and many more
Our development center is located in India and our team of highly skilled web developers, mobile app developers, UI/UX designers, project managers, quality analysts, etc. collaborates flexibly from there. Together with our team, we deliver world-class web and mobility solutions using pioneering technologies like:
• Native Mobile App Development: iOS (Objective C, Swift), Android SDK (Java)/Kotlin.
• Hybrid Mobile Application Development: Ionic, React Native, React JS, Angular, Sencha, PhoneGap/Cordova, Flutter, etc.
• Web Application Development: MEAN Stack, RoR, HTML5, SCSS, AngularJS, PHP, DotNet., WordPress CMS
• IoT powered App Development: Bluetooth, BLE, RFID, NFC, WiFi, etc.
• Cloud Infrastructure: Amazon AWS, EC2, RDS, S3, Rackspace, Digital Ocean.
• Programming Languages: HTML, CSS3, Bootstrap, jQuery, Ruby on Rails, Grails / Groovy, Java, J2EE, Hibernate, Node.js, PHP, ASP.net.
• Robotic Process Automation: Automation Anywhere, UiPath.
• Blockchain Development Services, Artificial Intelligence
***************************************************************************************
The applications fabricated by Biz4Solutions are user-centric, engaging, scalable, and customizable. We help our clients with apps that deliver a seamless user experience and give them a competitive advantage. Here are some new-age features that we integrate into our apps:
• Social Media Integration- Push notifications, News Feed, Calendar integration
• Payment Gateway Integration
• Geolocation/GPS Integration and Real-time Tracking
• Audio/Video calling, Call-blocking
• SMS Integration, Group chats, File sharing options
• Video-conferencing
• Live-streaming
• API Integration
• Barcode Scanning
• Chatbots
• Data and Analytics
• HIPAA Compliance for Healthcare Products
***************************************************************************************
Why Partner with Biz4Solutions for Your Next Mobile and Web Development project? What are Our Core Work Ethics?
• Complete Transparency in Work
• Faster Response Times and Regular Updates
• Strict Adherence to Timelines
• Excellent Quality Software Solutions
• Value for Money
• 30 Days Free Maintenance