Are you looking for a powerful and flexible platform to build your website on? Look no further than WordPress. With over 40% of websites running on WordPress, it's not hard to see why it's the go-to choice for many businesses and individuals alike. In this post, we'll explore some impressive reasons why building your website on WordPress is the smart move. From its user-friendly interface to its vast array of customization options, read on to discover how WordPress can help you create a stunning online presence that truly stands out from the crowd.
Reason #1: WordPress is easy to use
If you're thinking about building a website, you may be wondering if WordPress is easy to use. The answer is yes! WordPress is a content management system (CMS) that makes it easy to create and manage a website. Here are some impressive reasons why you should build your website on WordPress:
WordPress is free and open-source software.
WordPress is used by millions of people around the world.
WordPress is easy to install and set up.
WordPress has a simple user interface that makes it easy to add and edit content.
WordPress comes with thousands of free themes and plugins that you can use to customize your website.
WordPress websites are responsive, which means they look great on all devices (including mobile).
Search engines love WordPress websites, which helps you get more traffic and exposure for your business or brand.
WordPress websites are secure and can be backed up easily, so you don't have to worry about losing your data
Reason #2: You can create any type of website with WordPress
WordPress is a content management system (CMS) that enables you to create a website from scratch or to improve an existing website. WordPress is free and open-source software released under the GPL.
There are two ways to use WordPress: with a host such as WordPress.com, or with a self-hosted installation of WordPress on your own web server.
With WordPress.com, you can create a website in minutes without any technical knowledge. All you need is a domain name and password, and you're ready to go! WordPress.com provides everything else you need to get started, including hosting, security, backups, and support.
If you want more control over your website and its features, then you'll need to install WordPress on your own web server. This is sometimes referred to as a "self-hosted" installation of WordPress. You'll need to purchase web hosting and a domain name first, then follow the instructions for installing WordPress on your web server.
Reason #3: WordPress is free and open source
WordPress is a content management system (CMS) that powers millions of websites and blogs around the world. It is estimated that WordPress powers 34% of all the websites on the Internet.
One of the primary reasons for WordPress's popularity is that it is free and open source. Anyone can download, install, and use WordPress for their website or blog without having to pay anything.
In addition, as WordPress is open source, there is a large community of developers constantly working on improving the software. This means that you can always find someone to help you with your website if you need it.
Reason #4: WordPress is highly customizable
In today's highly competitive business world, WordPress is very popular. Well, the reason behind this popularity is that it meets several demands of users and enables designers and developers to create customized layouts and applications effectively. The best part is that WordPress is very easy for non-tech-savvy folks. Clearly, it is the perfect solution with many templates. You will find a theme for about every type of website. Whether it's a business website, a blog, or an e-commerce store, you will find a perfect WordPress theme!
Another amazing thing is that you can customize themes and add custom functionality to your WordPress website. There are thousands of plugins available out there. Some of the most essential WordPress plugins that you should choose are A contact plugin, A search engine optimization plugin, and an analytics plugin. A majority of WordPress websites consist of these plugins. So, you should include these on your website too.
Reason #5: Less Costs
Unlike other web designing and development platforms (Drupal and Joomla), WordPress provides less setup, customization, and maintenance costs. When it comes to improving customer experience, WordPress is a quick win. Do you know that WordPress is an open-source software that doesn't cost you for downloading, installation, and use? Honestly, WordPress is completely free. Although, you need to pay for web hosting. Apart from this, you will need an appropriate domain address too. If you want to create a fully functional effective website, then choosing WordPress is an ideal move.
WordPress is SEO-Friendly
Search Engine Optimization or SEO matters a lot. If you want to get your website ranked on the top of search engine result pages, then designing your website on WordPress can make a different. WordPress itself is an SEO-friendly platform. You can use powerful SEO plugins like AIOSEO and more to improve your search engine optimization or SEO efforts. According to a recent survey report, Google loves WordPress websites. This implies that websites designed on WordPress tend to rank higher than others. Including WordPress SEO plugins can help you get your website ahead of your competitors. So, you should definitely choose WordPress for your business's website.
Universal Dashboard
The best part about WordPress is that it is an extremely user-friendly website designing and development platform. In fact, if you are a first-time user, then you can easily learn about this platform. The universal dashboard of WordPress can help you learn all the available menu options. If required, you can customize the dashboard as well. You can track your website completely with the help of a universal dashboard. For small businesses, WordPress is great. You can design and develop an online store and collect payments via PayPal, Stripe, Authorize.net, and Square.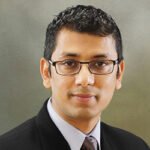 Sachin Agrawal is an Enterprise Architect and heads up Business & Technology at Tarika Technologies. He carries expertise and a flair for writing on Management Consulting, Software & Analytics, and Digital Media. Apart from distilling his technical ideas into creating innovative solutions, he is a practitioner of Haidong Gumdo and at his leisure, taps the Cajon and strums his Guitar!